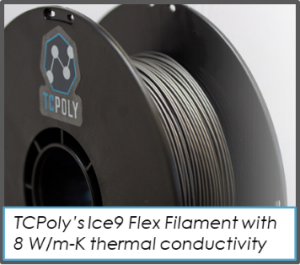 East Longmeadow, MA: Toner Plastics, Inc, a manufacturer of extruded plastic materials announces their partnership with TCPoly, which has developed proprietary materials that enable 3D printing of value-add parts with enhanced functionalities.  TCPoly's Ice9™ Flex thermally conductive filament is the world's highest thermal conductivity 3D printing plastic and can conduct heat 50x higher than traditional plastics.  TCPoly also makes a thermally conductive and electrically insulating (unlike metals that conduct both heat and electricity) filament, Ice9™ E-Ins. These allow for 3D printing of new heat transfer products for electronics thermal management, heat exchangers, mold tooling and many other industries.
Standard plastics are thermal insulators and are poor conductors of heat. As illustrated in the thermal images below, a standard plastic such as ABS or PLA will trap heat and drive up electronic device temperature because of its low thermal conductivity. In contrast, that same device embedded in a TCPoly plastic will operate at a much cooler temperature because the heat will dissipate through the material and then will be removed to air through surface convection. Thermally conductive plastics have been commercially available since the early 2000s, but TCPoly is the first company to develop formulations specifically for 3D printing filaments.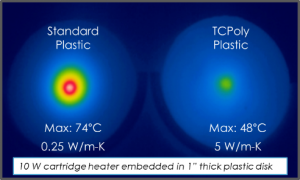 THERMALLY CONDUCTIVE 3D PRINTING FILAMENT USES:
Electronics overheating is a broad problem impacting nearly all electronics devices manufactured today. TCPoly's primary customers are OEMs and other electronic device manufactures that need new cooling solutions. Figure 2 below includes a brief list of the different applications TCPoly materials have been used in. Beside high thermal conductivity, TCPoly materials also have high-temperature stability (with heat deflection temperatures typically greater than 50C higher than the standard base polymer) and can be electrically insulating or conducting.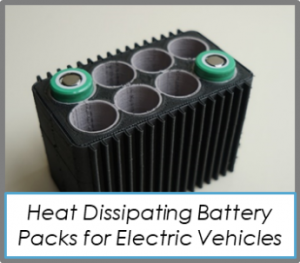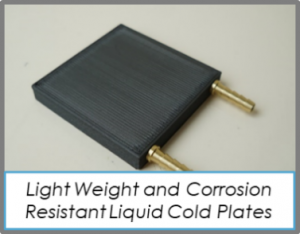 Toner Plastics Director of Sales and Marketing, Robbin Burton has this to say:
"Additive Manufacturing has advanced tremendously since 2012, it's much more sophisticated and so are the materials.  Toner extrudes a variety of plastics for various industries, so when Matthew Smith and I met at RAPID to discuss his unique material I knew it was something that Toner could do."
TCPoly's Co-Founder, Matthew Smith has this to say:
"Working with Toner has been great for TCPoly. Their extrusion expertise allows us to focus on our specialty, which is the development of advanced formulations for additive manufacturing. We look forward to continuing to work together to produce functional 3D printing materials at scale."
About TCPoly:  Founded in 2016 by two Georgia Tech PhDs, TCPoly is focused on the development of advanced composites that can be printed using low cost 3D printers. TCPoly sells their filament directly, offers product design and testing as well as custom materials formulation and compounding services. TCPoly has facilities in Knoxville, TN and Atlanta, GA and can be found online at www.tcpoly.com
3D PRINTED HEAT TRANSFER TECHNOLOGIES 
About Toner Plastics:  Founded in 1989 by Steven Graham, Toner Plastics has supported the plastic industry through extrusion, injection molding, and mold making.  Toner has 18 extrusion lines for custom profile extrusion, comprehensive application engineering support, in house tooling design capability, and post-extrusion finishing capabilities.  Headquartered in East Longmeadow MA.  For more information visit www.tonerplastics.com