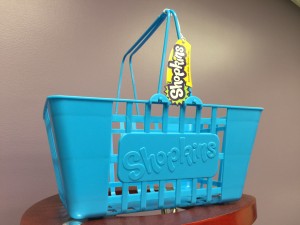 Together with its sister company The Beadery, Toner Plastics has just launched a new product with Walmart for the 2015 Christmas season. The Shopkins basket shown here was placed in the Walmart toy department's "trend pod" as part of a dedicated Shopkins program designed specifically for the Christmas blitz.
Having received the commitment from the Walmart buyer in August, the company had a very tight schedule with just 12 weeks available to design and build injection molding tooling, produce 60,000 baskets and ship complete to 2,100 stores in time for Black Friday. The project further demonstrated Walmart's commitment to its Made in America initiative as all of the baskets were produced right here in the USA.
Modeled after the original mini-figurine Shopkins basket, the appeal of this new life-size basket to prospective buyers lies not only in the in-store merchandising approach which places it with many other complementary items, but children seem to really enjoy being able to pick up the basket and shop with their parents in the store in addition to being able to organize their play things at home.
http://www.walmart.com/ip/Shopkins-Basket/47000017