Toner Plastics is more than happy to support organizations like Sew We Care in their fight against COVID-19. Sew We Care is a community of volunteers making masks and scrub caps for healthcare and essential workers during the COVID-19 crisis. Spearheaded by two Greater Boston community leaders, Manisha Jain and Jharna Madan, Sew We Care was established in late March as a simple WhatsApp group to delegate tasks and exchange tips.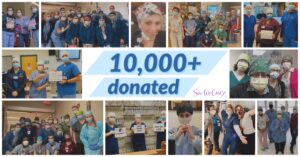 What began as a small effort to help donate PPE has expanded into a large group of 140+ members across New England, spanning 35 different towns in MA and NH. Toner Plastics recently donated elastic straps to help Sew We Care in their efforts to make protective masks. To date, Sew We Care has handmade and delivered upwards of 10,000 masks and scrub caps to more than 150 different organizations and hospitals.
For more information about Sew We Care please feel free to reach out to Manisha Jain (mjain@mac.com) & Jharna Madan (jharna.madan@gmail.com). Also, if you are looking for a manufacturing partner to assist you in your solution to combat COVID-19, please contact Toner Plastics today.